What is ThermiSmooth® Face?
With ThermiSmooth®Face, controlled gentle heating is administered on the concerned areas such as, the forehead, eyes, mouth, chin or neck. This powerful radiofrequency energy treatment feels like a warm stone massage, but is packed with controlled, precise heat to stimulate collagen remodeling. No downtime, non-invasive and gentle, which allows you to go back to work, or entertain the same evening.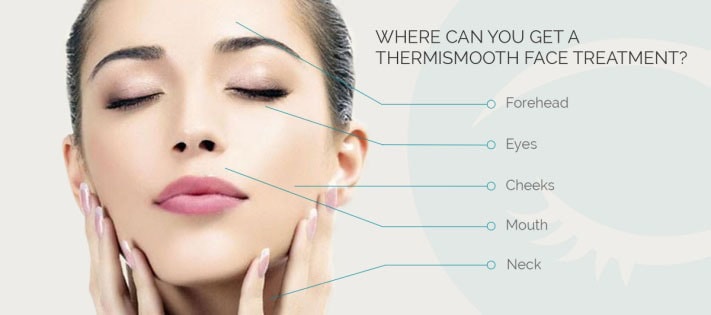 Our face is our introduction to the world. Sagging skin around the eyes makes us look tired, while droopy skin around the mid and lower face and neck region adds years. The development of jowls results in an ill-defined jaw line, which becomes unattractive. There is a major structural component in our skin which, when deficient, results in droopy, sagging skin on our face – Collagen.
Collagen is the substance which gives our skin strength and structure and plays a role in the replacement of dead skin cells. As time passes and the effects of time, sun damage, pollution, poor lifestyle, less collagen is produced, resulting in sagging and drooping contours. Over the years, patients have turned to over-the-counter treatments and noninvasive therapies to help restore their skin, but without getting the desired skin tightening results. This until now….
ThermiSmooth®Face, a revolutionary skin tightening treatment, now individuals have access to ground breaking RF technology with exceptional results.
ThermiSmooth®Face is a topical RF procedure which is performed using a specially-designed thermistor-regulated hand piece, which delivers precise heating to the skin's surface though a series of gentle treatments over 6-8 weeks. Patients often say it feels like receiving a warm massage. As the hand piece is gently moved across the skin, it heats the skin's surface using dermal heating. ThermiSmooth®Face is ideal on the face for problem areas around the forehead, eyes, mouth, cheeks, and neck.